RavenQuest BioMed Inc.
USA:  RVVQF  |  Canada:  RQB  |  Germany: 1IT.F
Website  |  SEC Filings  |  Latest News

There's a storm on the horizon – and no, it has nothing to do with the weather!
Canada is just a mere MONTHS away from Legalizing Recreational Marijuana, as soon as this Summer!
And as we approach the November 2018 Midterm Elections, States like New Jersey, Vermont, Ohio, Michigan, and more may look to put Full Legalization on the ballot.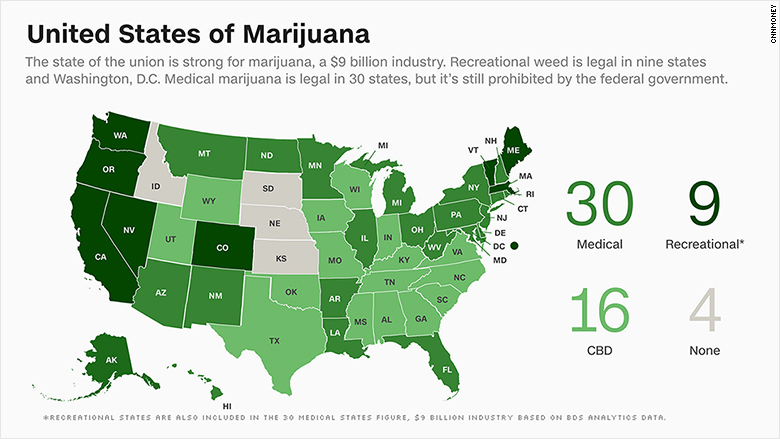 This will NEVER happen again.  There will NEVER be another Banned Substance made legal on this scale, creating a future TRILLION Dollar Global Market.
Yes, this Sector BOOM is ONCE-IN-A-LIFETIME.
The company's business model uniquely provides investors with the certainty of near-term revenue and the upside of production growth through newly-licensed production facilities.
New to the US Markets as of just last month, RVVQF presents a potential "GROUND FLOOR" Opportunity into the Red Hot Marijuana/Cannabis Sector!
This is achieved using a diversified FOUR PILLARS approach:
HOW THE PILLARS WORK TOGETHER
If you haven't sensed it yet, RVVQF's Four Pillars all work in conjunction with eachother to create, what the company hopes to be, a Cannabis POWERHOUSE!
So let's break it down…
Through their Indiginous Peoples Division, the company can strategically partner with tribes across Canada and build facilities with favorable tax breaks to produce Cannabis.
In addition to that, RVVQF will be producing Cannabis through thier Investments division, which includes the Acquisitions of Bloomera, Alberta Green Biotech, and potentially the company's new Acqusition – Western AgriPharma.
Both of these divisions will be supported by the company's Management Services Division (which is already a money-maker) by introducing consulting as well as the company's Orbital Gardening 2.0 Technology.
And lastly, supporting each arm is the Research & Development Division, which, through it's partnership with McGill University, brings a major scientific advantage from a top-ranked University to figure out ways to increase production and produce better yields!

RVVQF'S ENORMOUS MARKET POTENTIAL
Canada's Cannabis Industry is expected to surpass $22 BIL in size over the coming years, according to Deloitte, with over 140,000 registered medical marijuana patients today.
However, the industry is expected to see a shortfall in supply with the near-term plans to legalize marijuana for recreational use.
As an Licensed Producer, RVVQF will have opportunity in that market.  The company hopes to ramp up to 11,000 kilograms per year ($55 MIL in annual revenue) when fully operational.
RVVQF already forecasts a $15 MIL Revenue Stream on the Management Services side alone for 2018 to 2019, which means the company will have a positive cash flow.
Once its production facilities are up and running, they expect to see $55 MIL in annual revenue on that side of the business!!!
THE BOTTOM LINE
More than any Cannabis company we've seen so far, RVVQF truly seems the most ready to capture a sizable portion of Canada's Cannabis Market!
This is a company that's built for GROWTH – pun intended! 
RVVQF offers everything from Technology and Consulting to Production and Research.
By diversifying their offerings into each of their divisions, RVVQF has brilliatly created an ecosystem poised for success.
And since it's New to the US Markets, there may be no better time for this GROUND FLOOR Situation as Canada heads towards Full Legalization this Summer!
Make sure you put RVVQF on your screen RIGHT NOW!
Please Read our Full Disclaimer:  https://www.stockoftheweek.net/disclaimer
This report/release/advertorial/profile is a commercial advertisement and is for general information purposes only. We are engaged in the business of marketing and advertising companies for monetary compensation unless otherwise stated below.  The paying party may own shares and may liquidate them during the promotional period.
PLEASE NOTE WELL: StockoftheWeek.net and its employees are not a Registered Investment Advisor, Broker Dealer or a member of any association for other research providers in any jurisdiction whatsoever and we are not qualified to give financial advice. STOCKOFTHEWEEK.NET WILL NEVER ACCEPT FREE OR RESTRICTED TRADING SHARES IN ANY COMPANIES MENTIONED at STOCKOFTHEWEEK.NET &/OR ANY OF OUR SOCIAL NETWORKING AND EMAIL ADVERTISING PLATFORMS.
This Website & Newsletter is now owned and operated by Link Media. Any wording found in this e-mail or disclaimer referencing to "I" or "we" or "our"  refers to Link Media and/or it's subscriber base.Our website and newsletter are for Entertainment purposes only.This newsletter is NOT a source of unbiased information. Never invest in any stock featured on our site or emails unless you can afford to lose your entire investment. The disclaimer is to be read and fully understood before using our site, or joining our email list. 
We encourage all to read the SEC's INVESTOR ALERT before reading this Newsletter.

Release of Liability: Through use of this email and/or website advertisement viewing or using you agree to hold StockoftheWeek.net, its operators owners and employees harmless and to completely release them from any and all liability due to any and all loss (monetary or otherwise), damage (monetary or otherwise), or injury (monetary or otherwise) that you may incur. StockoftheWeek.net sponsored advertisements do not purport to provide an analysis of any company's financial position, operations or prospects and this is not to be construed as a recommendation by StockoftheWeek.net or an offer or solicitation to buy or sell any security. 
COMPENSATION: StockoftheWeek.net has been compensated one-hundred  thousand dollars cash via bank wire by RavenQuest BioMed Inc. for a two week advertising services contract which includes the preparation, publication, and management of this corporate profile as well as other marketing and investor relations services.. StockoftheWeek.net does not own any shares of RVVQF. 
All Content, Distribution, and editorial control has been given, reviewed, and approved by RavenQuest BioMed Inc. 
Stockoftheweek.net does not investigate the background of any third party. The third party may have shares and may liquidate it, which may negatively affect the stock price. This compensation constitutes a conflict of interest as to our ability to remain objective in our communication regarding the profiled company. Stockoftheweek.net may purchase shares on the open market of any mentioned company following the dissemination of this email. The information contained herein is based on sources which we believe to be reliable but is not guaranteed by us as being accurate and does not purport to be a complete statement or summary of the available data. StockoftheWeek.net encourages readers and investors to supplement the information in these reports with independent research and other professional advice. All information on featured companies is provided by the companies profiled through their website, news releases, and corporate filings, or is available from public sources and StockoftheWeek.net makes no representations, warranties or guarantees as to the accuracy or completeness of the disclosure by the profiled companies. Further, StockoftheWeek.net has no advance knowledge of any future events of the profiled companies which includes, but is not limited to, news & press releases, changes in corporate structure, or changes in share structure.
None of the materials or advertisements herein constitute offers or solicitations to purchase or sell securities of the companies profiled herein and any decision to invest in any such company or other financial decisions should not be made based upon the information provide herein. Instead StockoftheWeek.net strongly urges you conduct a complete and independent investigation of the respective companies and consideration of all pertinent risks. Readers are advised to review SEC periodic reports: Forms 10-Q, 10K, Form 8-K, insider reports, Forms 3, 4, 5 Schedule 13D. StockoftheWeek.net is compliant with the Can Spam Act of 2003. StockoftheWeek.net does not offer such advice or analysis, and StockoftheWeek.net further urges you to consult your own independent tax, business, financial and investment advisors. Investing in micro-cap and growth securities is highly speculative and carries and extremely high degree of risk. It is possible that an investor's investment may be lost or impaired due to the speculative nature of the companies profiled.
The Private Securities Litigation Reform Act of 1995 provides investors a 'safe harbor' in regard to forward-looking statements.  Any statements that express or involve discussions with respect to predictions, expectations, beliefs, plans, projections, objectives, goals, assumptions or future events or performance are not statements of historical fact may be "forward looking statements". Forward looking statements are based on expectations, estimates, and projections at the time the statements are made that involve a number of risks an uncertainties which could cause actual results or events to differ materially from those presently anticipated. Forward looking statements in this action may be identified through use of words such as "projects", "foresee", "expects", "will", "anticipates", "estimates", "believes", "understands", or that by statements indicating certain actions "may", "could", or "might" occur. Understand there is no guarantee past performance will be indicative of future results. Past Performance is based on the security's previous day closing price and the high of day price during our promotional coverage. 
In preparing this publication, StockoftheWeek.net has relied upon information supplied by various public sources and press releases which it believes to be reliable; however, such reliability cannot be guaranteed. Investors should not rely on the information contained in this email and website. Rather, investors should use the information contained in this website as a starting point for doing additional independent research on the featured companies. The advertisements in this email and website are believed to be reliable, however, StockoftheWeek.net and its owners, affiliates, subsidiaries, officers, directors, representatives and agents disclaim any liability as to the completeness or accuracy of the information contained in any advertisement and for any omissions of materials facts from such advertisement. StockoftheWeek.net is not responsible for any claims made by the companies advertised herein, nor is StockoftheWeek.net responsible for any other promotional firm, its program or its structure.